Sprawled over an area of 2.2 lakhs Sq.Ft. x Built-up 46000 Sq.Ft, we have an excellent infrastructure, equipped with state-of-the-art machineries, to produce indigenous and superior quality products. Our production capacity consists of 2.5 Lakh Mtrs of Shuttleless Woven Fabric and 4.5 Lakh Mtrs of Shuttle fabric every month.


Weaving Preparatory
Warping Machine
4 Nos
7 Cylinder Single Sow Box Sizing
1 Nos
9 Cylinder Double Sow Box with Synchro 2 Sizing
1 Nos
Features

Online warp stop motion
Online moisture and speed control unit
Weaving

Yarns are intricately interlaced to weave out elegant fabrics for crafting a wide range of products for Homes, Hospitals and Nursery. Our weaving unit consists of the following machineries,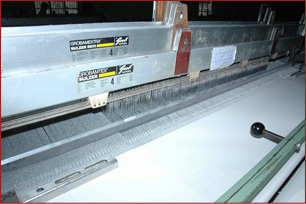 Shuttle Looms - Contract
450 Nos
High Speed Shuttleless : Sulzer Projectile P7100 Weaving M/c
21 Nos
High Speed Shuttleless - Contract
30 Nos
Our weaving machinery is provided with on line quality and production data monitoring system.
Garment Division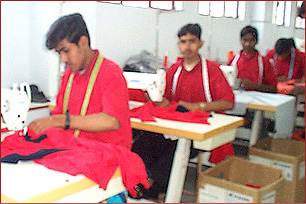 The finished garments are measured and cut according to the desired size to produce the necessary accessories. Our stitching division comprises Siruba and other special machines to create Single Needle stitch, Lock stitch, Flat stitch etc and have the following production capacity
Jersey Fitted Cot Bed Cover = 60000 Pcs/Month.
Child/Adult Bibs = 40000 Pcs/Month.
Hospital Apparels = 25000 set
We also have special machines suited for home furnishings, fitted sheets and sleeper bags.